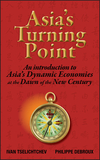 Despite the current global financial crisis, several big Asian economies continue to grow fast. What are the critical forces shaping the Asian business and economic environment? Economics professor Ivan Tselichtchev will summarize the lessons of a new book he coauthored, Asia's Turning Point: An Introduction to Asia's Dynamic Economies at the Dawn of the New Century.
DATE: Tuesday, June 23rd
TIME: 7pm
VENUE: Cheung Kong Graduate School of Business 长江商学院 (see bottom for full address and map)
ENTRANCE: free for FCCC members, 50 rmb on the door to non-members
RSVP: fcccadmin@gmail.com
ABOUT THE SPEAKER
Ivan Tselichtchev is professor at the Niigata University of Management in Japan. He graduated from Moscow University in 1979, after which he joined Russia's leading think tank, the Institute of World Economy and International Relations before joining Niigata University in 1994. In 2005, the Committee of the Cabinet Office of the Government of Japan named Tselichtchev "Seikatsu Tatsujin" (A Master of Life), which means a person with outstanding achievements and lifestyle.
Cheung Kong Graduate School of Business 长江商学院
Oriental Plaza, 2nd floor, Tower E3 (Ernst&YoungTower安永大楼)
1 East Chang An Avenue, Beijing 100738, China
Tel: 010-85188552
地址:中国北京市东长安街 1 号东方广场东 3 座 2 层
English map: http://www.orientalplaza.com/eng/prime/transport.htm
Chinese map: http://www.orientalplaza.com/gb/prime/transport.htm
Cheung Kong's website at http://en.ckgsb.com